↓ Read on to see this amazing video
There are many amazing bodies of water on this planet. Some are natural, others man-made. An example of an impressive human achievement is the Richland-Chambers Reservoir.
The original purpose of this reservoir was to supply water to the area. However, it has developed into a popular lake that is not only practical, but also a great recreational area. If you're wondering how deep the Richland-Chambers Reservoir in Texas is, you'll find the answer to that question below!
Where is Richland Chambers Reservoir?
The Richland-Chambers Reservoir is located in the state of Texas, more specifically in Freestone County and Navarro County. It is south of Kerens and east-southeast of Corsicana. In terms of major cities, it is 60 miles southeast of downtown Dallas. Interstate 45 runs north-south just west of this body of water.
The damming of Chambers Creek and Richland Creek formed this reservoir. The dam is located at the eastern end of the "Y" shaped reservoir, which has approximately 330 miles of shoreline. One arm of the "Y" extends to the west and the other to the northwest.
How deep is Richland Chambers Reservoir?
The Richland-Chambers Reservoir is 75 feet deep at its deepest pointalthough the depth at any given point may vary depending on the terrain on which the reservoir was built.
The top of this reservoir's conservation basin is approximately 315 feet above sea level. The range of fluctuation is about a meter around this level.
History of Richland Chambers Reservoir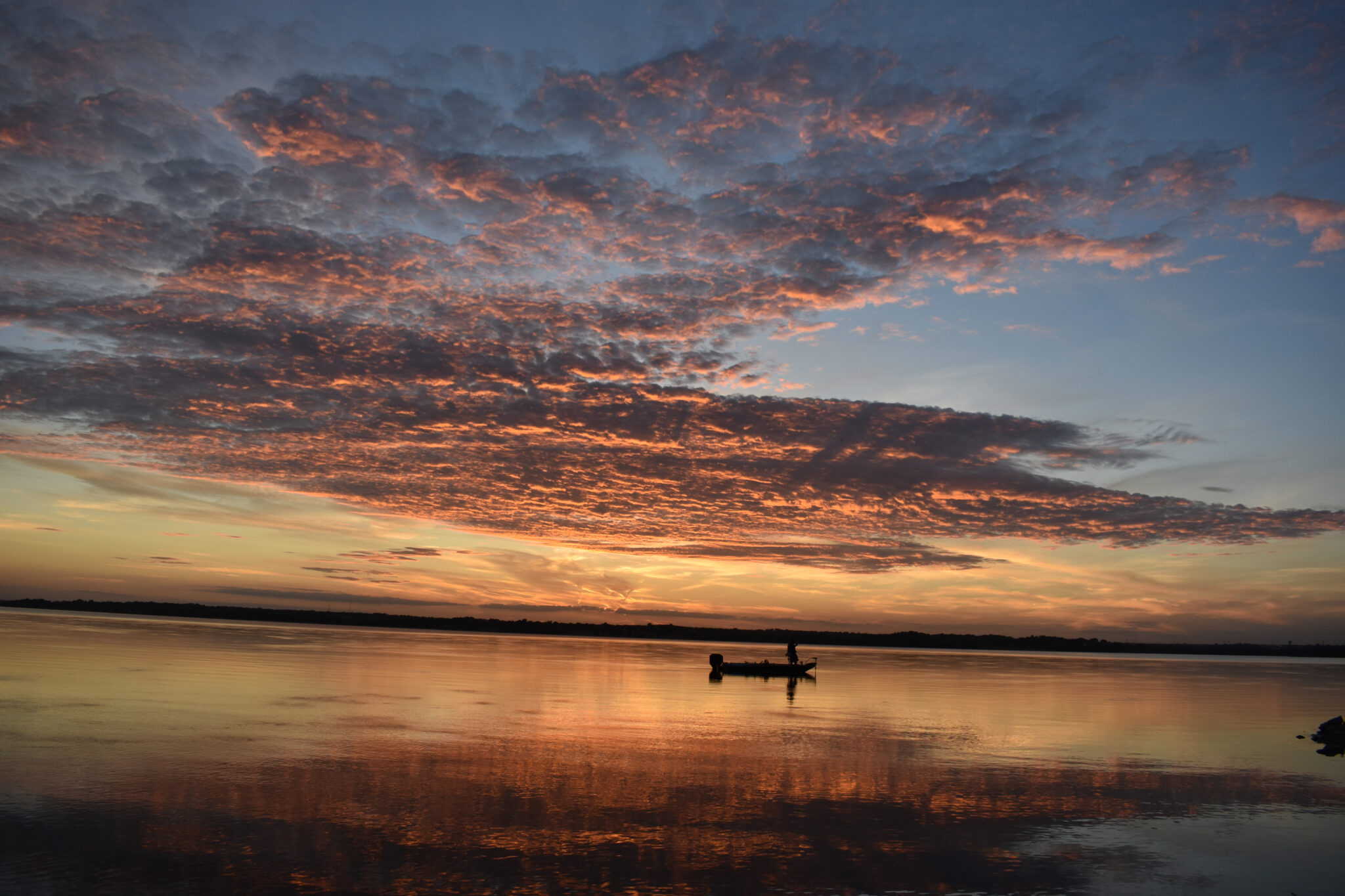 The Tarrant Regional Water District owns and operates the Richland-Chambers Reservoir. This reservoir exists for flood control, irrigation, water supply and recreational purposes.
The original plans to build this reservoir were implemented after a drought in the 1950s. It was intended to be a public water source for Tarrant County. However, no action was taken by October 1979. At this point, the Water District issued $342.75 million in revenue bonds.
Construction of the dam began in October 1982 and impoundment of the water began in July 1987. The reservoir was completed in November 1987 and filled in May 1989. The 90-inch pipeline between the reservoir and Lake Benbrook began operating in November 1988.
The Tarrant Regional Water District owns most of the water rights to this reservoir, whose clarity is typically cloudy to moderately clear. The pipeline will pump water from this reservoir to equalization ponds and to Lake Benbrook for storage. It then moves to either Eagle Mountain Lake or water treatment plants.
Components of the Richland Chambers Reservoir
The Richland-Chambers Dam is an earthen dam that is 6.5 miles long. At its highest point, it stands 120 feet above the water. The dam's spillway is at Station 133, which is about a mile north of the original Richland Creek. This spillway is approximately 960 feet long and is controlled by 24 flood gates.
What is the surface area of ​​Richland Chambers Reservoir?
At the top of the conservation basin, this reservoir can hold 1,112,763 acres of water. The surface area of ​​this reservoir at this location is 43,384 acres. The reservoir allows an extra two feet above the top; When the water is filled to this point, the reservoir can hold a total of approximately 1,211,263 acre-feet of water and the surface area will now be 45,500 acres.
The Richland-Chambers Reservoir is the eighth largest reservoir in Texas by volume of water and the third largest inland reservoir by area.
Activities at Richland-Chambers Reservoir
Even if this reservoir has always been used primarily for water supply, it is also a popular local recreation area. People like swimming, boating and fishing here. There are numerous boat docks as well as the Harbor Inn Restaurant & Club on the shore of the lake.
Because this reservoir is relatively new, traffic is generally light. There is also plenty of space for apartments by the lake.
Fishing in Richland-Chambers Reservoir
Richland-Chambers Reservoir is the perfect spot for anglers. There is an abundance of crappie, blue and channel catfish, hybrid striped bass and white bass. Spots with clear water and visible vegetation are great for finding largemouth bass, but these areas don't make up a large part of the lake.
Black buffalo and carp are also among the predominant fish species in this reservoir. The lake has been intentionally stocked with Florida bass, blue catfish, channel catfish and coppernose bluegills.
About a decade after this reservoir was built, largemouth bass tournaments were common, with many bass catching around 35 pounds. Since then, however, multiple droughts have reduced the average size of these catches. This reservoir is no longer a top bass fishing lake.
A common strategy among anglers is to set up a jug line for catfish and then hunt for bass. This reservoir may be the most consistent source of black and white crappie in the area.
An invasive species in Richland-Chambers Reservoir
Currently, zebra mussels have invaded Richland Chambers Reservoir. Zebra mussels are native to Eurasian waters, particularly Russia and Ukraine. It's a mollusk that's usually about the size of a human fingernail, although the largest can be around two inches long. Each has a pattern of dark stripes on its shell that gives the animal its name.
Zebra mussels have a variety of negative impacts on ecosystems. They are filter feeders and end up filtering out algae that native species typically feed on. They also disable native mussel species and clog water intakes. Additionally, the waste they produce ends up on the lake floor and can interact with sunlight to form Cladophora, a species of algae that can be troublesome.
To prevent the spread of zebra mussels, anyone boating in Richland-Chambers Reservoir must ensure their boats, trailers and all equipment are thoroughly cleaned, drained and dried before moving the boat to another body of water. Otherwise, zebra mussels clinging to these materials can spread and multiply elsewhere.
Next:
#deep #RichlandChambers #Reservoir #Texas