The 9 Best Lakes in the United States for Fishing
The United States is home to more than 240 lakes that serve as water sources, income sources, and recreational spots. The five Great Lakes on the North American continent represent 21% of the Earth's surface fresh water by volume! That's pretty impressive, isn't it?! These numbers point to the fact that the United States is abundant in fish species. But how can you choose a fishing spot out of so many lakes?
We've already done the hard part and made a list of the 9 best lakes in the United States for fishing! We've checked how many species they host, which of them are the most popular ones among fishing enthusiasts, and even if the lake is suitable for beginners!
1. Lake Superior
Lake Superior
Location
Minnesota, Wisconsin, the Upper Peninsula of Michigan
Area
31,700 sq mi
Depth
1,333 ft
Number of fish species
More than 80
Popular fish species
Trout, salmon, Northern Pike
Lake Superior is the largest lake by surface area worldwide. It represents 10% of the Earth's surface freshwater and is part of the Great Lakes chain. The lake is inhabited by more than 80 species of fish, including
Bloater;
Killifish;
Lake trout;
Lake whitefish;
Smallmouth bass;
Northern pike;
Lake sturgeon.
Moreover, numerous species have accidentally or intentionally become part of the lake's ecosystem, such as
We recommend choosing charter fishing on Lake Superior. This way, you'll have a fantastic fishing experience alongside enjoying some time in the tranquil waters. If you're not up to it, you can always choose one of the fishing spots available on Lake Superior's extensive shoreline.
2. Lake Okeechobee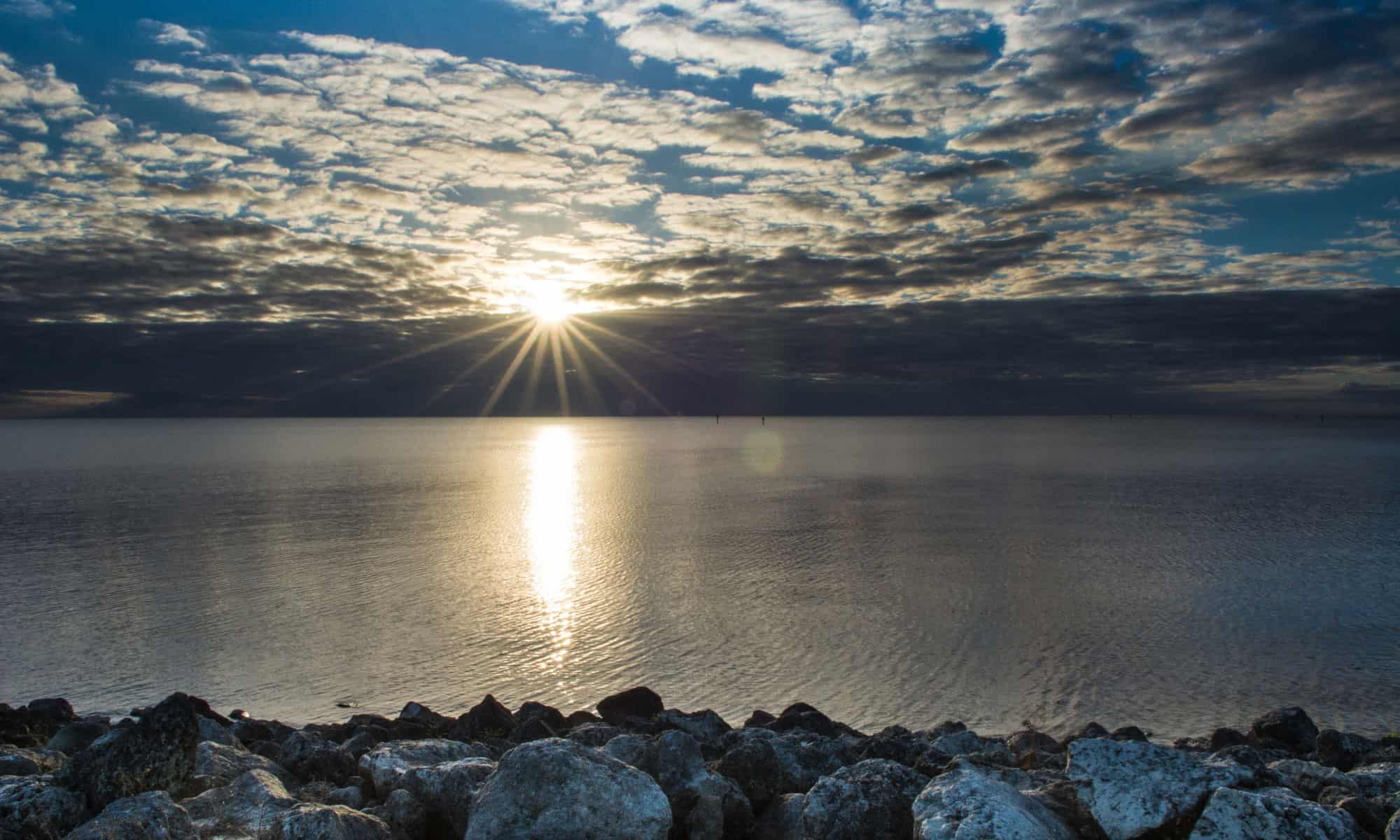 Lake Okeechobee
Location
Florida
Area
662 sq mi
Depth
12 ft
Number of fish species
More than 40 species of native fish
Popular fish species
Largemouth bass
Lake Okeechobee is also called "Florida's Inland Sea." It is the state's largest freshwater lake. Its primary source is the Kissimmee River. Lake Okeechobee hosts more than 40 native fish species and other introduced species. This lake is known for its largemouth bass population. The locals say that most visitors come to the lake precisely for this species. Other species of fish you can catch there include:
Bluegill;
Catfish;
Bowfin;
Black crappie;
Pickerel.
You can have a great fishing experience if you fish on a boat. However, if you've already been there, you probably already know the area and can explore it on foot. Along the way, you can stop at the grassy or rocky banks or the fishing piers for fishing. The administration advises visitors to take great care if they discover the region on foot, as dangerous species of animals, such as alligators, inhabit it.
3. Chickamauga Lake
Chickamauga Lake
Location
Hamilton, Rhea, Meigs, McMinn, Bradley counties, Tennessee
Area
20,700 sq mi
Depth
72 ft
Number of fish species
More than 40
Popular fish species
Largemouth bass
Chickamauga Lake is a reservoir located along the Tennessee River. It covers a large area stretching from Watts Bar Dam to Chickamauga Dam. It is a top-rated destination for people living in the area or visiting, as it features various recreational facilities, including fishing.
Fish enthusiasts are attracted mainly by the largemouth bass population, especially since Gabe Keen, an angler from Caryville, established a new state record by catching a largemouth bass weighing 15.20 pounds in Chickamauga Lake.
Other fish species that visitors can catch include:
White bass;
Catfish;
Crappie;
Bluegill;
Yellow perch.
Moreover, the venue organizes numerous fishing tournaments you can participate in.
4. Lake Tahoe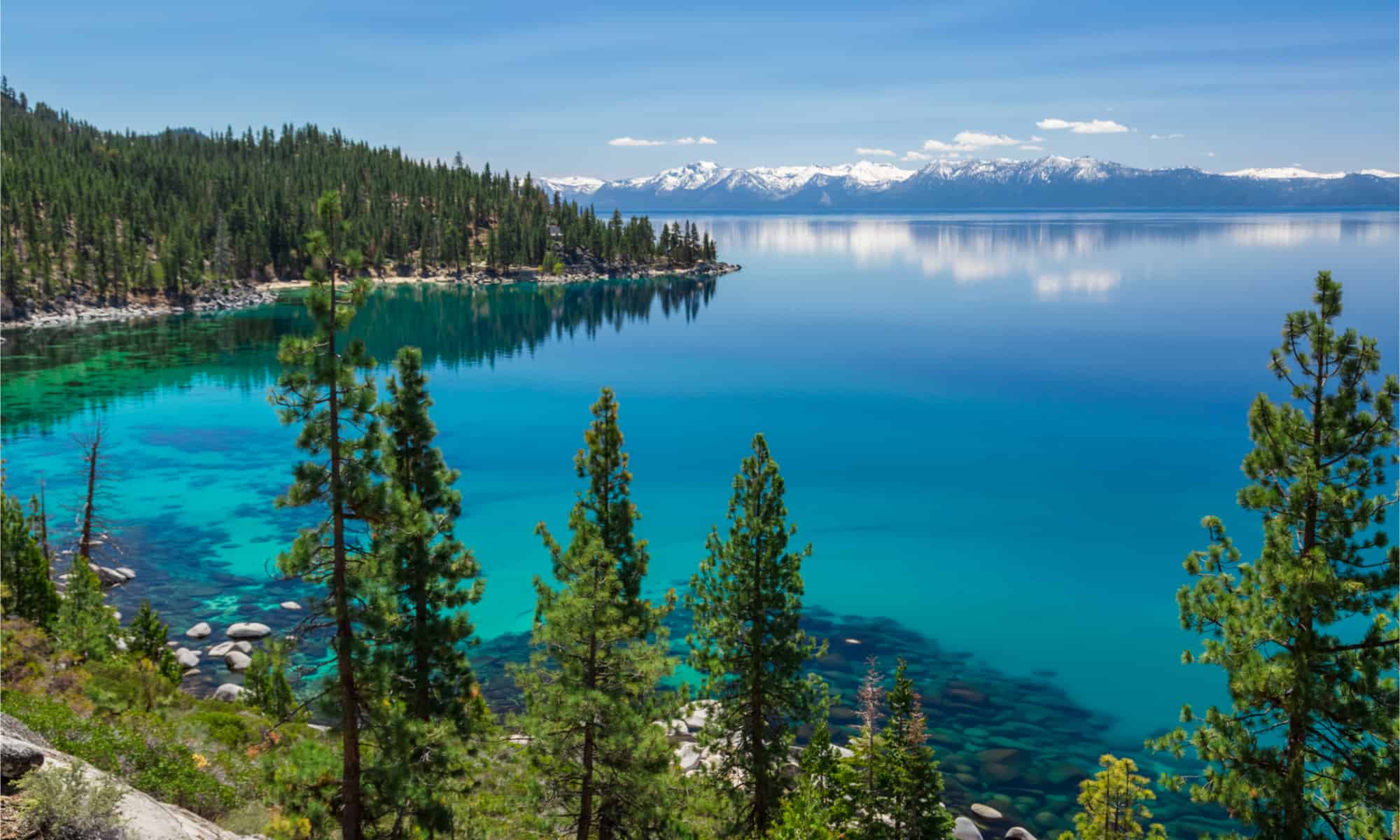 Lake Tahoe
Location
The Sierra Nevada of the United States, along the state line of California and Nevada
Area
191 sq mi
Depth
1,645 ft
Popular fish species
Mackinaw trout
Lake Tahoe is the second-deepest lake in the United States and the largest alpine lake in North America. It is considered an ancient lake, formed around two million years ago.
Lake Tahoe is one of the top-rated tourist attractions in California and Nevada, as it provides unique recreational facilities, including fishing. However, we recommend choosing a different lake if you're a beginner, as the facilities here are designated for more experienced anglers.
Mackinaw trout is the biggest attraction for anglers since the lake, with its cold water, is the perfect environment for this species. They usually weigh up to 20 pounds, although the biggest Mackinaw Trout caught in 1974 weighed 37.40 pounds!
Other notable fish species that inhabit the lake are:
5. Lake Erie
Lake Erie
Location
Michigan, Ohio, Pennsylvania, New York
Area
9,910 sq mi
Depth
210 ft
Number of fish species
107
Popular fish species
Walleye, smallmouth bass, sturgeon
Lake Erie is one of the five Great Lakes – the fourth-largest by surface area, the shallowest, and the smallest by volume. It is known for being one of the largest freshwater commercial fisheries in the world. Lake Erie contains 50% of all the fish that inhabit the five Great Lakes. These include:
Walleye;
Largemouth bass;
Smallmouth bass;
Lake trout;
King salmon;
Steelhead.
The longest fish in the lake is the sturgeon. It can grow as large as 10 feet and weigh as much as 300 pounds. However, it's difficult to catch it, as it's considered an endangered species and usually lives on the bottom of the lake.
6. Lake Michigan
Lake Michigan
Location
Wisconsin, Illinois, Indiana, Michigan
Area
22,404 sq mi
Depth
923 ft
Number of fish species
153
Popular fish species
Steelhead trout, salmon
Lake Michigan is the second-largest lake by volume among the five Great Lakes. It has shorelines in Wisconsin, Illinois, Indiana, and Michigan, covering more than 22,000 square miles. Steelhead trout and salmon are the most popular fish species that attract numerous anglers yearly. Other fish species that inhabit Lake Michigan are
Lake trout;
Yellow perch;
Largemouth bass;
Smallmouth bass;
Catfish.
Moreover, if you enjoy participating in fishing tournaments, you can always check out the Brew City Salmon Tournament. It is one of the biggest and most popular tournaments on Lake Michigan's western shore.
7. Clear Lake
Clear Lake
Location
Lake County
Area
68 sq mi
Depth
60 ft
Number of fish species
31
Popular fish species
Largemouth bass
Clear Lake is the largest natural freshwater lake in California, and it is considered the oldest lake in North America, dating as early as 2.5 million years ago. The lake is located in Lake County, California, north of Napa County and San Francisco.
Clear Lake is known for its largemouth bass, bluegill, crappie, carp, and catfish populations. It has over 100 miles of shoreline, which makes fishing much easier! The lake is even called the "Bass Capital of the West" thanks to its large bass population. Even more, in 2016, Clear Lake became the third-best bass lake in the country and the first-best bass lake on the West Coast, as stated in Bassmaster Magazine.
For a better fishing experience, you can rent one of the fishing boats available. You'll also find various fishing stores and facilities where you can buy fishing equipment.
8. Lake Fork Reservoir
Lake Fork Reservoir
Location
Wood, Rains, and Hopkins counties, Texas
Area
42.6 sq mi
Depth
70 ft
Number of fish species
Over 15
Popular fish species
Largemouth bass
Lake Fork Reservoir has over 300 miles of shoreline, making it a perfect spot for fishing! Over time, the largemouth bass population has caught the attention of many anglers in the country! Texas Parks and Wildlife established Lake Fork Reservoir as a premier bass fishing lake. By 1987, more than 700,000 largemouth bass lived in the lake. Other fish species that live in the lake include:
Catfish;
Yellow bass;
White crappie;
bluegill.
Lake Fork Reservoir features private marinas and public boat launch sites.
Lake Fork Reservoir is worth visiting if you're willing to participate in fishing tournaments! We recommend checking out the Simms Bassmaster Elite Tournament or the Bass on the Fly Wood Championship.
9. Saguaro Lake
Saguaro Lake
Location
Maricopa County, Arizona
Area
1.97 sq mi
Depth
90 ft
Number of fish species
12
Popular fish species
Bass; carp
Saguaro Lake is located in Arizona, within the Tonto National Forest. Although it is smaller than the other lakes mentioned in this list, Saguaro Lake is a destination worth checking out, especially if you're living in or passing through the western United States. Moreover, it is a perfect spot for beginners, as fishing is pretty easy. Saguaro Lake hosts some of the following species:
Bass;
Crappie;
Bluegill;
Catfish;
Yellow bass;
Walleye.
It is considered that the lake hosts bass fish that weigh more than 12 pounds and carp species weighing around 30 pounds! Saguaro Lake is also a natural treasure, so you'll be able to enjoy its stunningly beautiful surroundings!
Please follow and like us: