↓ Read on to see this amazing video
Oregon is on the west coast of the United States. It is one of three states with a shoreline on the Pacific Ocean and the ninth largest state in the United States. Rocky coasts, mountains, deserts, dense forests, deep gorges and breathtaking lakes characterize the landscape. The deepest lake in the USA, Crater Lake, is located in Oregon. However, it also features many large artificial lakes. Read on to learn more about the largest man-made lake in Oregon!
Largest artificial lake in Oregon
Longitudinally, Lake Owyhee (pronounced oh-why-he) is the largest man-made lake in Oregon. It is 53 miles long and 25 feet wide. The average depth is 35 meters.
Built in 1932, this 13,900-acre lake is located in far east Oregon near the Idaho border. It is 11 miles southwest of Adrian, Oregon.
Owyhee Dam on the Owyhee River forms Lake Owyhee. It's a remote reservoir with no cell phone coverage or pay phones in a deep desert canyon surrounded by volcanic rock formations.
Who built the Owyhee Reservoir and Dam?
Engineers built Oregon's largest artificial lake in 1932 using new techniques that would be instrumental in the construction of the famous Hoover Dam just a few years later.
The name Owyhee comes from an old dialect. It refers to Hawaiian trappers who were killed there by Snake Indians in 1819. Owyhee is an old variation of the name "Hawaii".
Owyhee Dam is an irrigation dam on the Owyhee River that forms the largest (by length) man-made lake in Oregon. It is 417 feet high and was the tallest dam in the world at the time.
It serves as a dam and irrigation dam for eastern Oregon and southwestern Idaho. In the beginning, it provided water for 80,000 acres of new land. Today, Lake Owyhee supplies water to 1,800 farms and 118,000 acres of land mostly growing onions and hops.
To transport building materials to the site, engineers built a new 24-mile railroad in 1928! That infamous year ushered in the Great Depression, but work continued and in 1935 irrigated water was finally delivered.
Owyhee River
The Owyhee Dam manages the Owyhee River. It is a 289-mile tributary of the Snake River that provides water for the largest population of California bighorn sheep! Visitors can also spot the endangered sage grouse on its banks.
Because it cuts through the arid highlands of southeast Oregon (called the Owyhee Plateau), the Owyhee River is called Oregon's Grand Canyon. It created a stunning canyon up to 300 meters deep, showing millions of years of geological activity.
Wildlife at Oregon's largest man-made lake
Wildlife at Lake Owyhee is diverse and plentiful. The lake attracts golden eagles, squirrels, coyotes, pronghorn, deer, wild horses, and rabbits. Visitors can see mountain lions and big California sheep nearby, but watch out for rattlesnakes.
Anglers fishing Oregon's largest man-made lake will catch rainbow trout, largemouth bass, smallmouth bass, crappie, yellow bass and brown bullhead. Black crappie and largemouth bass are particularly plentiful.
Free time at Owhyhee Lake
First of all, this is a remote area! Lake Owyhee State Park and Leslie Gulch Canyon run along its eastern shore. Leslie Gulch Canyon is named after a rancher who was struck by lightning there in 1882!
It's so remote that the nearest hospital is over an hour's drive away, and there's no phone reception. Those setbacks don't deter visitors to Owyhee Lake, however. Repeat anglers return each year, drawn by the big fish. Nature lovers are rewarded for glimpses of Lake Owyhee's incredible wildlife.
This 83-mile desert canyon lake with rugged mountain rims is perfect for tranquil boating, and right next to it is a highly rated challenging trail called Fisherman's Road. The trail is just over 13km long and climbs 596m, enough to offer some truly spectacular views. Geology buffs will find petrified wood, pictorial jasper and thundereggs along the shoreline and on hiking trails.
Accessibility is limited due to the remote location, but the Gordon Gulch Area offers picnic tables and a boat ramp.
What is an artificial lake?
Artificial lakes are artificial lakes built to store water. Most are formed when dams block rivers, but damming a natural lake also creates an artificial lake.
Dams control the water level of the reservoirs and irrigate the surrounding land, provide water for residents and control destructive flood damage.
Largest lake in Oregon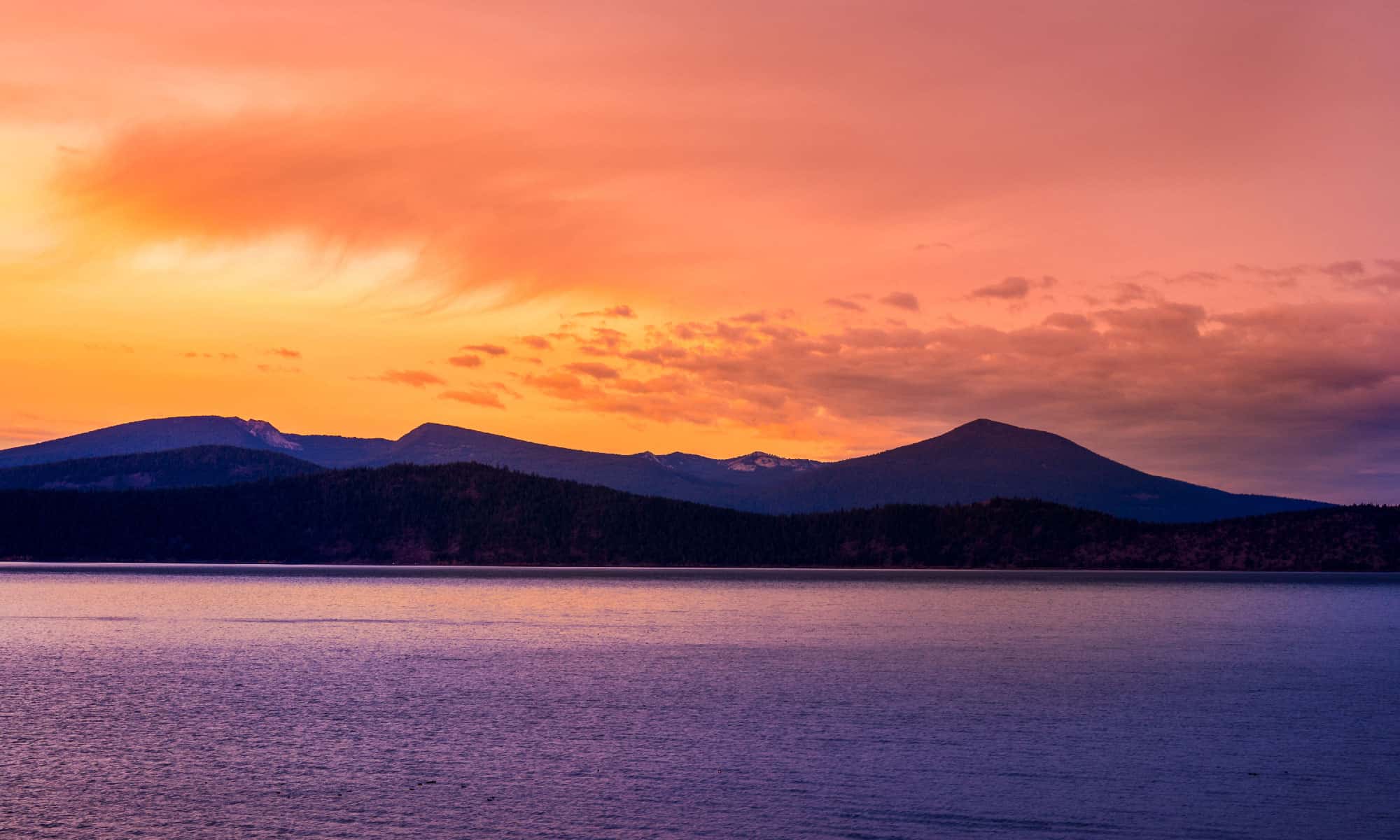 At 53 miles long, Lake Owyhee is Oregon's largest man-made lake by length, but Oregon's largest lake by area is Upper Klamath Lake. This lake is 25 miles long and 8 miles wide. However, it is only a fraction of its former size. 10,000 years ago it was ten times larger! Its surface area decreased in the warming Pleistocene climate.
Upper Klamath Lake is excellent for rainbow trout fishing. Because the water is so warm, 90% of the fish stock is blue chub and Tui chub. Boaters enjoy the lake's scenic shoreline, but water quality is poor due to past environmental practices. As a result, officials discourage water-contact activities.
Great Oregon Lakes
The largest artificial lake in Oregon is Lake Owyhee, judging by its length, but there are over 70 major lakes in Beaver State. Here are a few more:
Wickiup reservoir
Wickiup Reservoir is the second largest artificial lake in Oregon. It is 30 miles long and covers 10,334 acres. 60 miles from Bend, the United States Bureau of Reclamation built Wickiup Dam on the Deschutes River in 1949.
It's about 20 feet deep, but some channels are even deeper, dropping to 70 feet. Big brown trout swim through the clear water and tourists see golden eagles there.
crater lake
Crater Lake in Oregon is famous for its great depths. At 594 meters deep, it is the deepest lake in the United States and the ninth deepest in the world. Its area covers 13,180 hectares.
Formed by the collapse of Mount Mazama over 7,500 years ago, Crater Lake retains its blue waters because no rivers flow in or out. This beautiful natural lake is famous for its beautiful scenery and crystal clear deep water.
summer lake
Located in Lake County, Oregon, Summer Lake is 15 miles long and 5 miles wide. It's a huge shallow alkaline lake with swamps, so it's a paradise for bird watchers. Bald eagles, yellow-headed blackbirds, hermit thrushes and great blue herons populate the swamps.
Amazingly, the lake disappears on hot days! The spring-fed Ana River fills Summer Lake and with no outlets, the water evaporates leaving carbonate salt behind.
Crane Prairie Reservoir
It's not the largest artificial lake in Oregon, but Crane Prairie Reservoir teams up with wildlife. In fact, it's named after the cranes that populate the area.
The shore length of Crane Prairie Reservoir is 22 miles and its water is 6 meters deep. It was built in 1922 and remodeled in 1940 to create irrigation areas, but more recently it has evolved into Central Oregon's premier wildlife viewing site.
Ospreys perch on tree stumps jutting out of the clear water (an area of ​​forest was drowned to create the reservoir and the stumps remain). Crane Prairie Reservoir is home to the largest nesting osprey colony in the Pacific Northwest! The Crane Prairie Osprey Management Area protects this stunning bird of prey.
Bird watchers will also see bald eagles, blue herons, kingfishers, sandhill cranes, Canada geese and cormorants skimming the surface. And just a glimpse away, Rocky Mountain moose graze in the lakeside meadows.
recap
Oregon's largest man-made lake (by length) is Lake Owyhee. It's a stunning 53-mile long, 25-meter-wide switchback oasis in arid Oregon that supports farmers, fish, and incredible wildlife such as pronghorn, golden eagle, and the occasional mountain lion.
next up
#largest #artificial #lake #Oregon